My love affair with Cairn Terriers began in 1989, and I became a breeder of them in 1992. I use to live in Sunny Manitoba till 1999, when I went west to Beautiful Calgary Alberta, where I took 5 years off, and began breeding and showing again in 2006.

My first Cairn was bought as a pet, and turned out to be a very handsome fellow. I was encouraged to show him, but we did not get very far, as Denny was not as good as I thought he was, or led to believe. Either way we kept getting knocked out in the show ring. Too late I had been bitten by the show bug!

I waited a year and got a daughter off my Boy Denny, and took all the handling classes I could, and trained her the best I knew how.

At the Ladies Kennel Club show in BC in 1992. I gave my girl Maddie (Ch. Cairnisles Midnite Madness), to a Pro-handler friend of mine, Cliff Holland, and she picked up her first 5 points that weekend, and went Best of Breed over Specials 2 days in a row. After I got back to Manitoba, I took over her handling and finished her undefeated in her class. That was my beginning in Cairns, and I have never looked back.

Due to complications in my life I did stop breeding for a few years, but in 2006 I purchased from Rene and Lee Morin (Bonniedee) a Handsome Lad I named Harley. And we were off again. First weekend out Harley received a Best Puppy in Show.. I was elated, Harley was finished by a Junior Handler named Courtney Gough at 1 1/2 years. We then purchased another Bonniedee pup, this time a girl, who would hopefully become my foundation bitch, Pippen. Pippen was solely handled by me in the ring. Pippen proved to be an excellent Foundation Bitch and has given me many wonderful children and grandchildren to show, play with and love.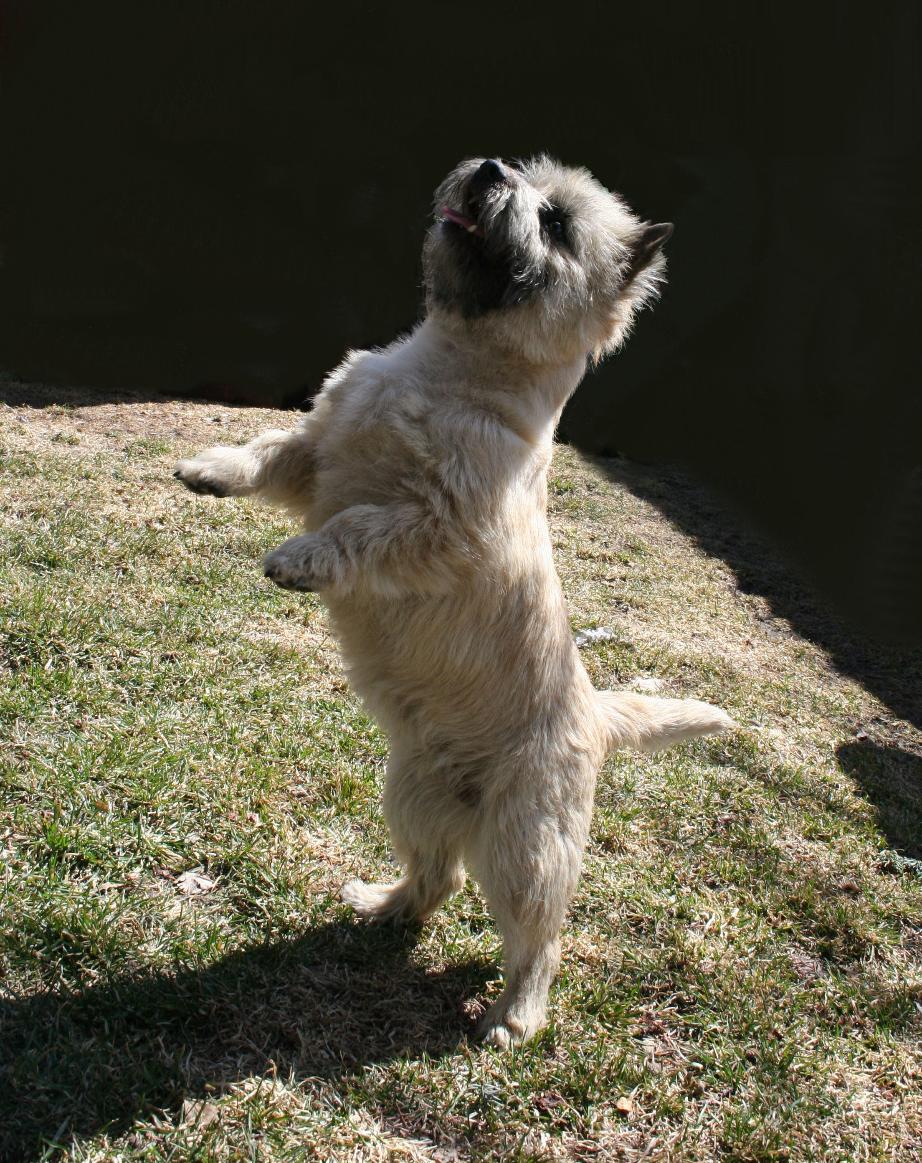 Ch Cairnisles Pixilated, "Dott"
Dancing for joy!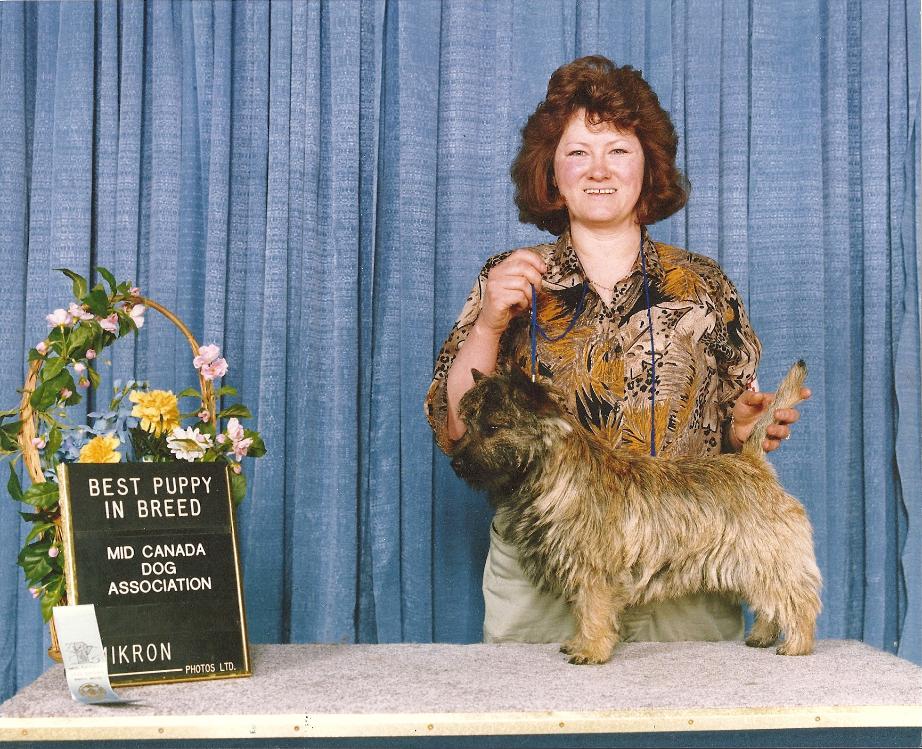 Denny Brier of Torquil... My First Cairn Terrier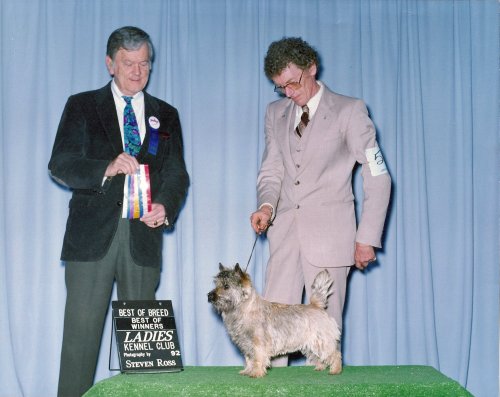 Ch Cairnisle's Midnite Madness at 7 1/2 months My First Champion.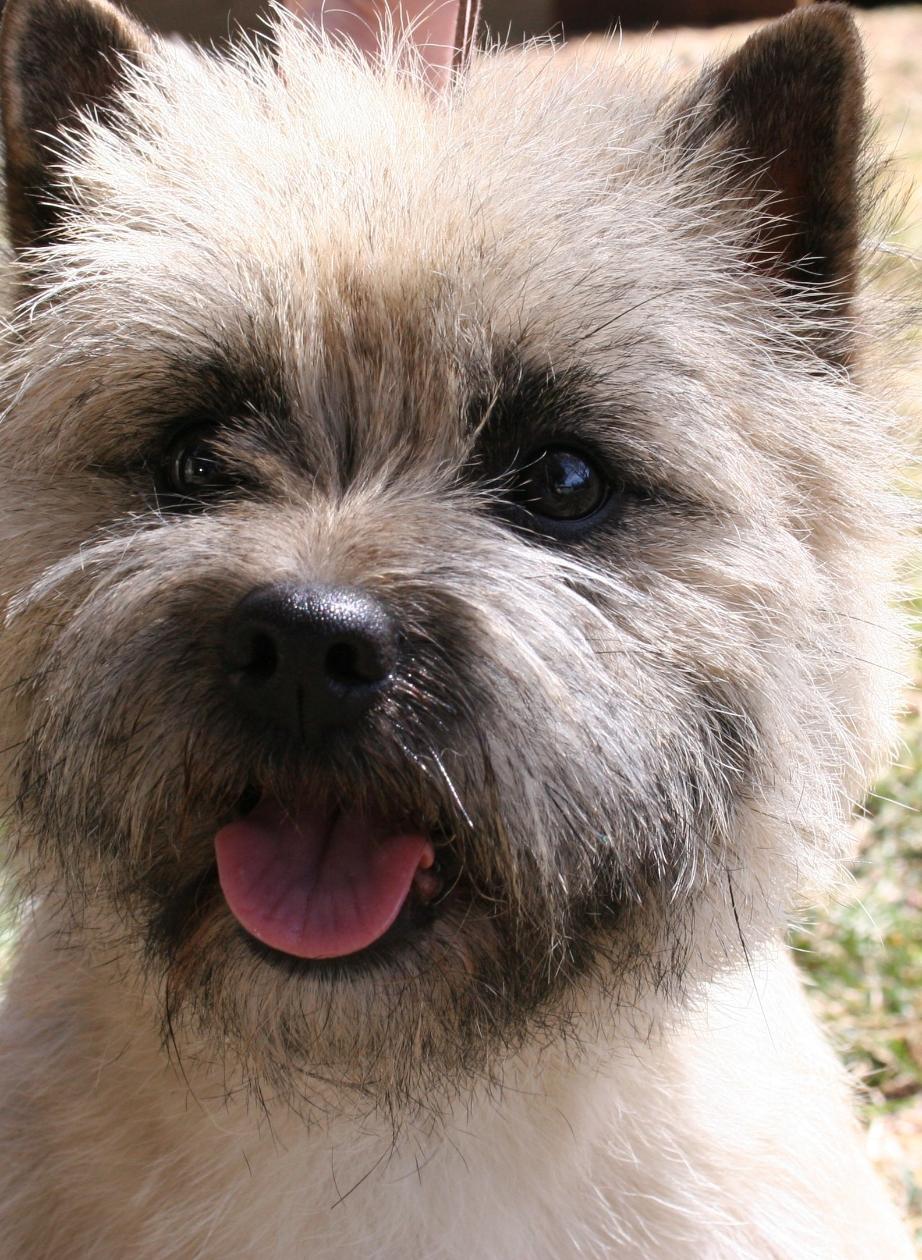 Ch. Cairnisles Pixilated (CAN/AMCH Quarrydenes Gambling Man X CANCH Bonniedee Lady Of Starlight)
At the May 2010 CTCC National Specialty Under Breeder/Judge Marie Hogarty, Dott receives a WB and and Award of Merit!

At the NACA Terrier Specialty in June 2010, Under Judge Cindy Vogel, Dott receives BOW, BOS, and achieved her Canadian Championship, and goes on to win BPISS in a very tough Puppy group.

That same day, Dott also defeated a very strong Puppy sweeps group to win Best Puppy in Sweeps under Tom Fraser.

*Latest news* August 7 2010, Ch. Cairnisles Pixilated "Dott" wins Best of Breed under Judge Ken McDermott at the Red River Terrier Specialty.