We are elated to announce Dallas's First Best In Show win Under Judge Peggy Beisel Mcilwaine.
We are so proud of our boy here at Cairnisle Cairn terriers. Looking forward to a great year!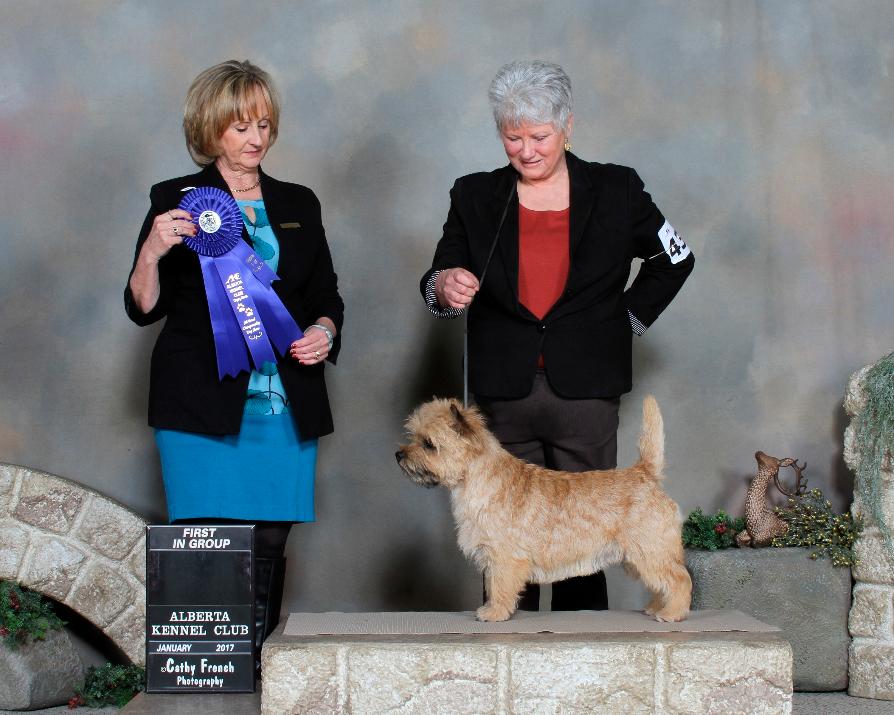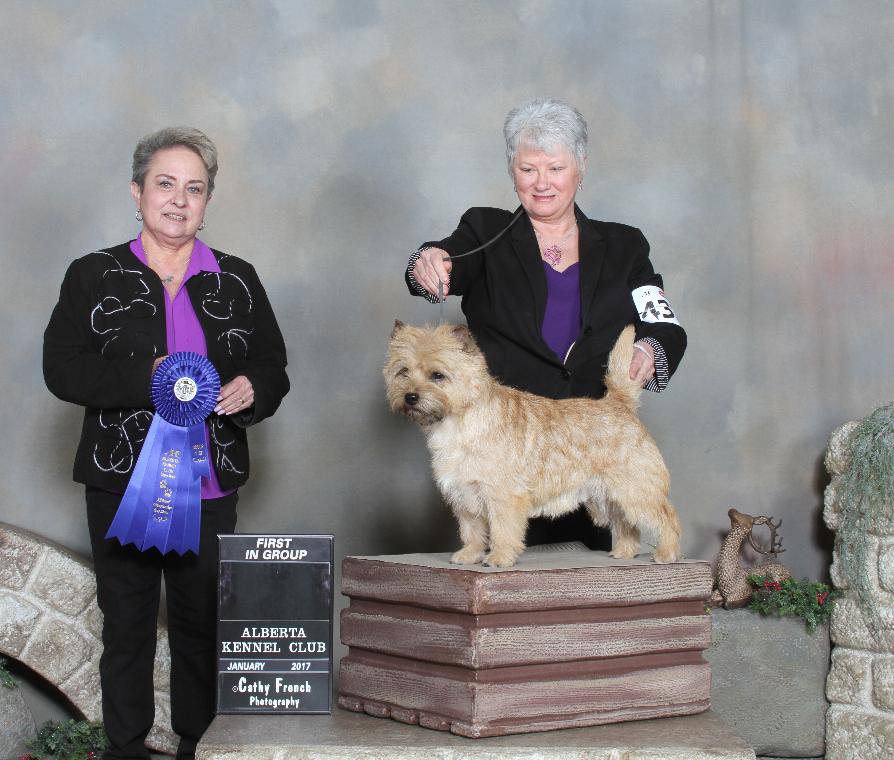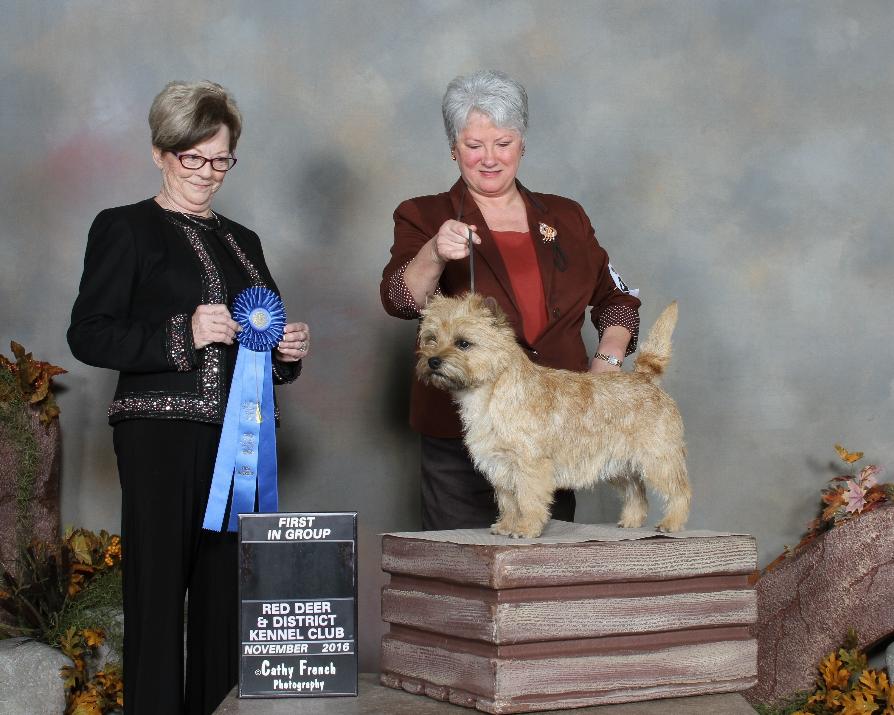 What a Wonderful Weekend we had at the Red Deer Dog shows, Pictured is Dallas winning Grp 1 under Judge Diane Ivey. In the past Diane has favored our dogs with wonderful wins. Pippen ( Dallas's Grandmother) received a Best in Show at a Terrier Specialty a few years ago under her. Thank you Diane for Recognising our Dogs qualities.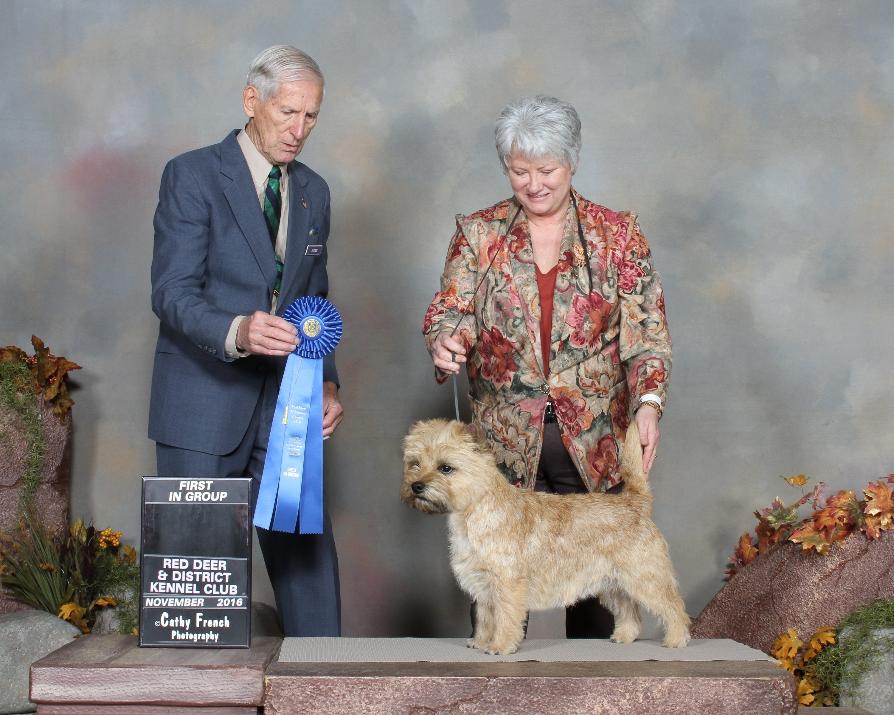 What a joy to show under this man. We are pleased and honored by the Group 1 placing awarded to Dallas by Joe Gregory.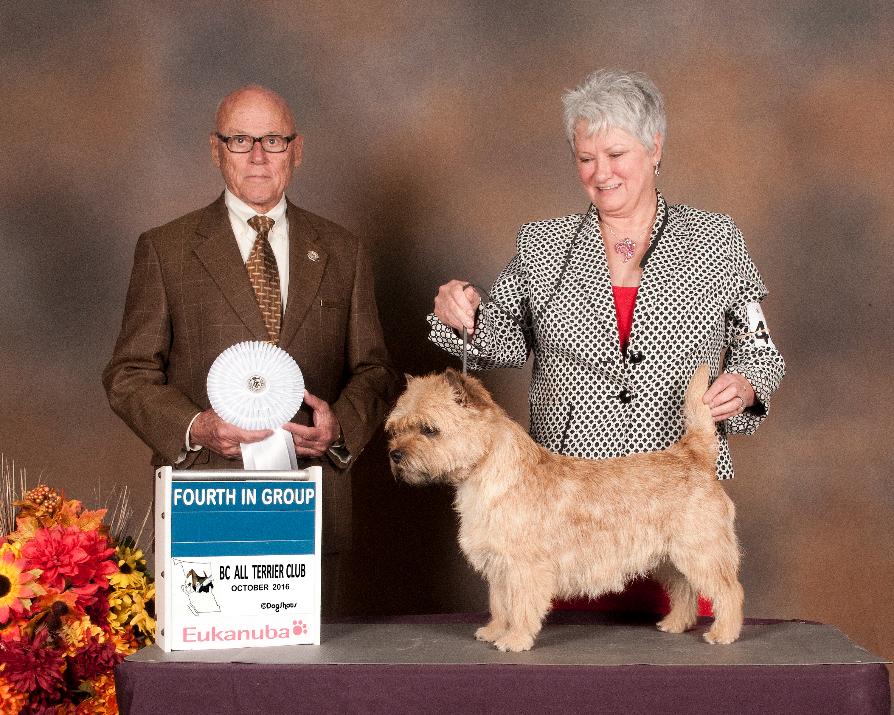 BC All Terrier Club Show, Dallas was awarded a Group 4 under respected Judge Ed Bivin. Thank you Mr Bivin for recognizing my dog.
Another wonderful win under Judge Pat trotter. Dallas was awarded Group 2 under this wonderful Lady at the Fraser Valley Dog shows in BC this October 2016.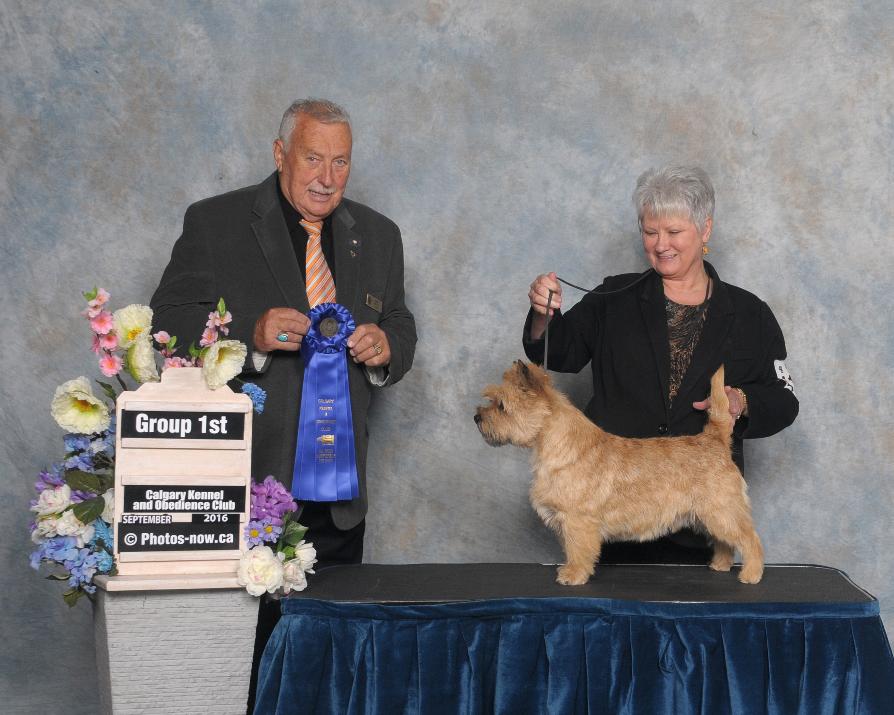 We had a great weekend at the CKOC's fall show in Cochrane Alberta. Dallas received 2 Grp 1 placings under Respected Judges. Thank you Judge Alan Ewles for recognizing My Special boy.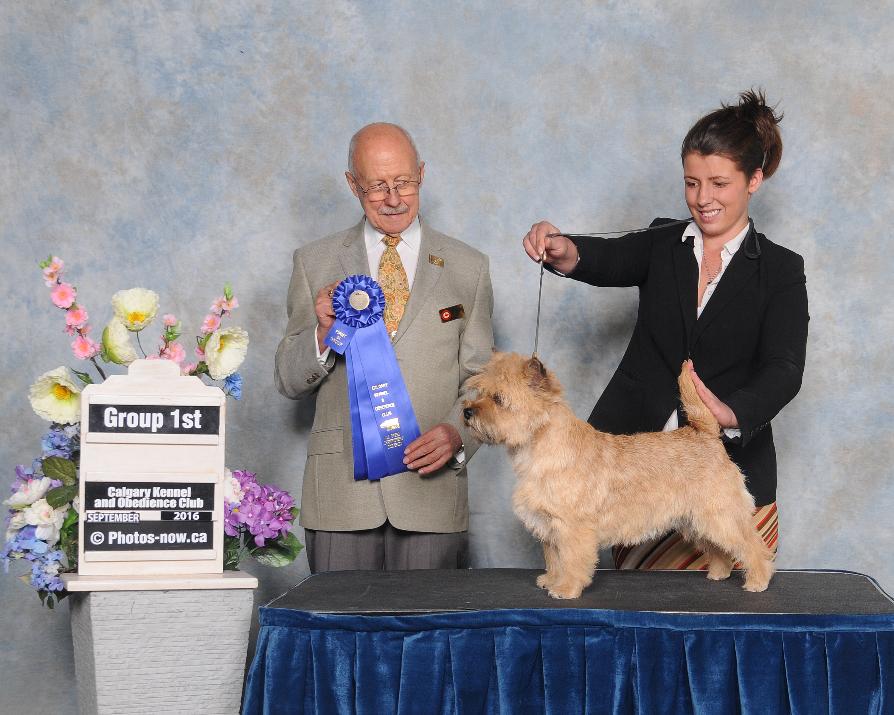 I want to thank Madison Elyse Ferron Bernardin ( Team Larry Clark) For taking Dallas in the ring for me when I could not be there. She did an awesome job showing Dallas to a Group 1! Thank you Larry for the work you did and for taking care of my special boy.

Thank you Judge Michael Hill for recognizing my Special boy.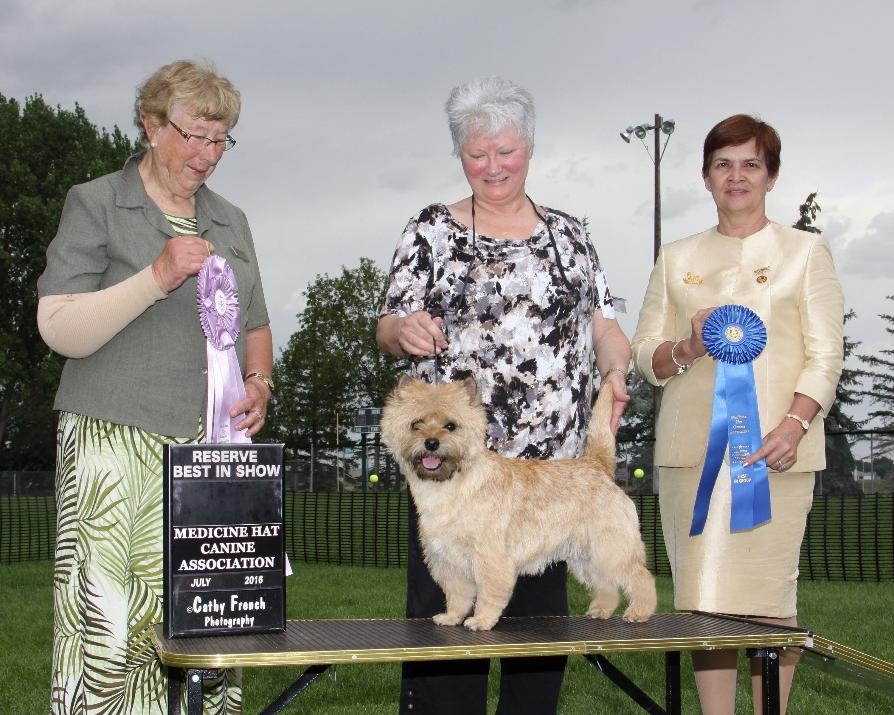 July 22 and 23 2016, What a wonderful weekend in Medicine Hat alberta. 3 Group 1 placings and 1 Group 2 placing, and topping it all off a Reserve Best in Show under Cairn Breeder Judge Margaret Jones.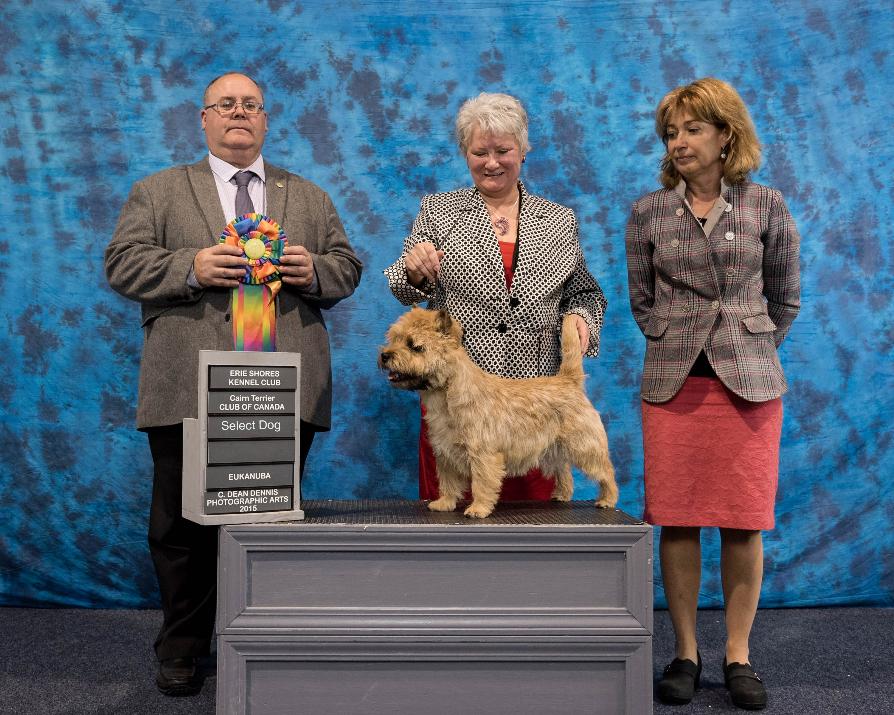 Just got back from the Cairn Terrier Club of Canada National Specialty in Brantford Ontario, where Dallas won Select Dog at both the National specialty Under Judge Geoff Thomas of Wales UK, and the OER Regional Specialty under Judge Jon Cole, USA.
Critique from Geoff Thomas: Ch Cairnisles Sharp Dressed Man, bright red masculine dog who just demanded your attention. Best of heads with correct ratios of width of skull to length of muzzle, with correct bite and big teeth. So well put together, best of fronts, firm level topline and correct angulations behind. In first class coat and condition and a flawless showman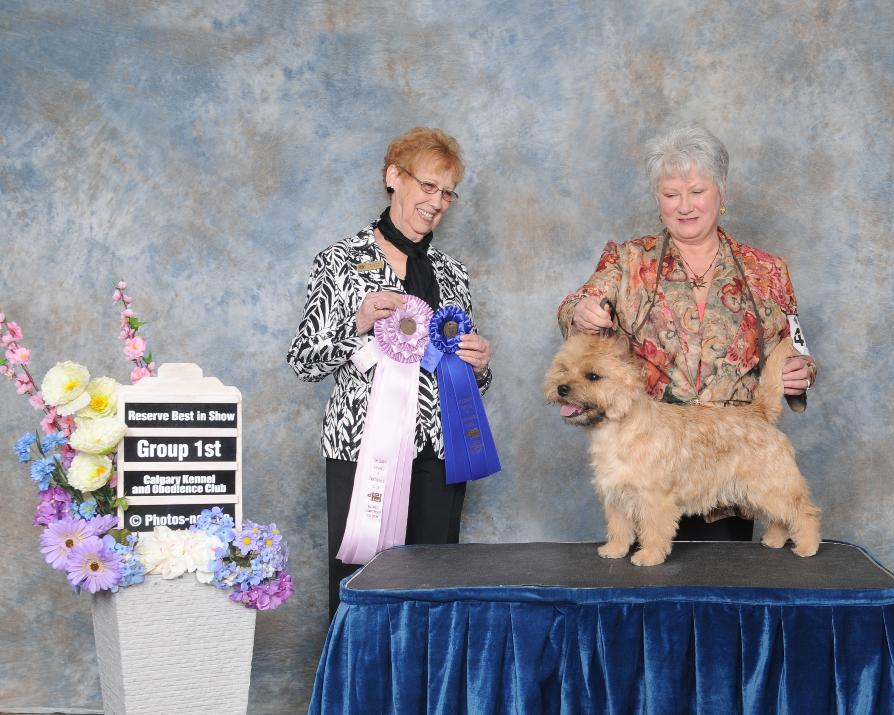 What a Weekend
We are still Smiling here! Saturday Dallas won a Group 1 and Reserve Best in Show, under Respected Judge Pat Hastings Sunday Dallas won a Group 4 under Judge Joe Lobb Monday Dallas won another Group 4 under Judge Janet Lobb We would love to thank all the Judges for their generosity and recognizing Dallas as the very sound Cairn that he is.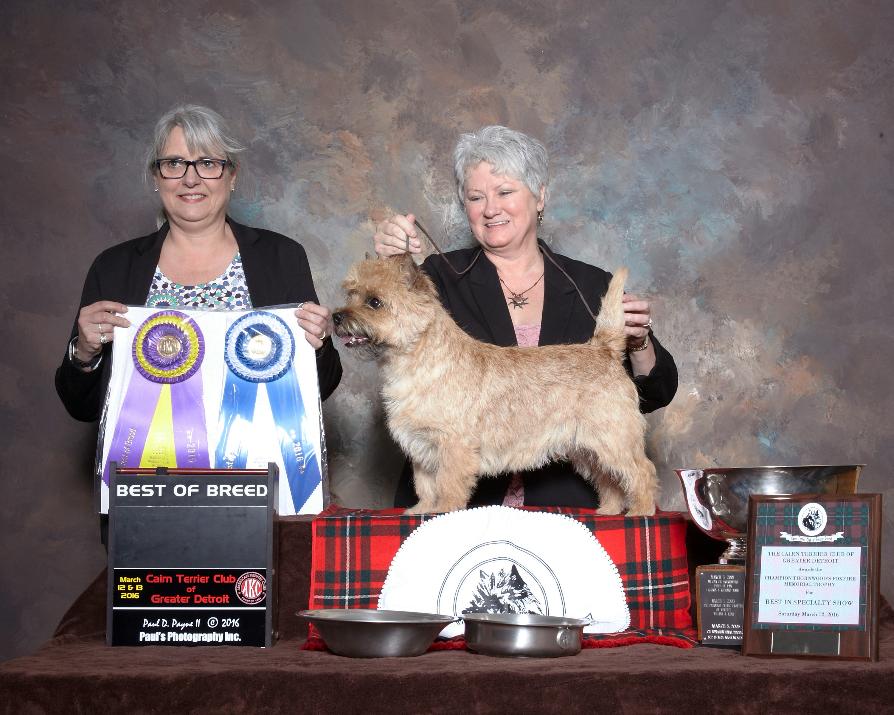 What an Exciting weekend!!.
Our first trip to the USA and Dallas "Can GCH Cairnisles Sharp Dressed man" Wins Best of Winners and Best of Breed, from the classes, over 55 Cairn Terriers at the Cairn Terrier Club of Greater Detroit Specialty, under Breeder judge Mette Sorum of Denmark, for a 5 point Major! Dallas is now 3 years old and has really grown into himself. We are looking forward to an exciting year with him, both here in Canada and in the USA! Critique by Mette Sorum, Breeder Judge from Denmark: Red eye-catching Masculine male that showed nonstop, tail bang on top. Beautiful coat, super condition, thick and hard from top to toe and tail. Super pigmentation, with lovely dark eyeliner. Strong jaw and big teeth, lovely neck and topline, good forechest and rib, well angulated front and back. Good muscle tone, moves free with nice reach and drive.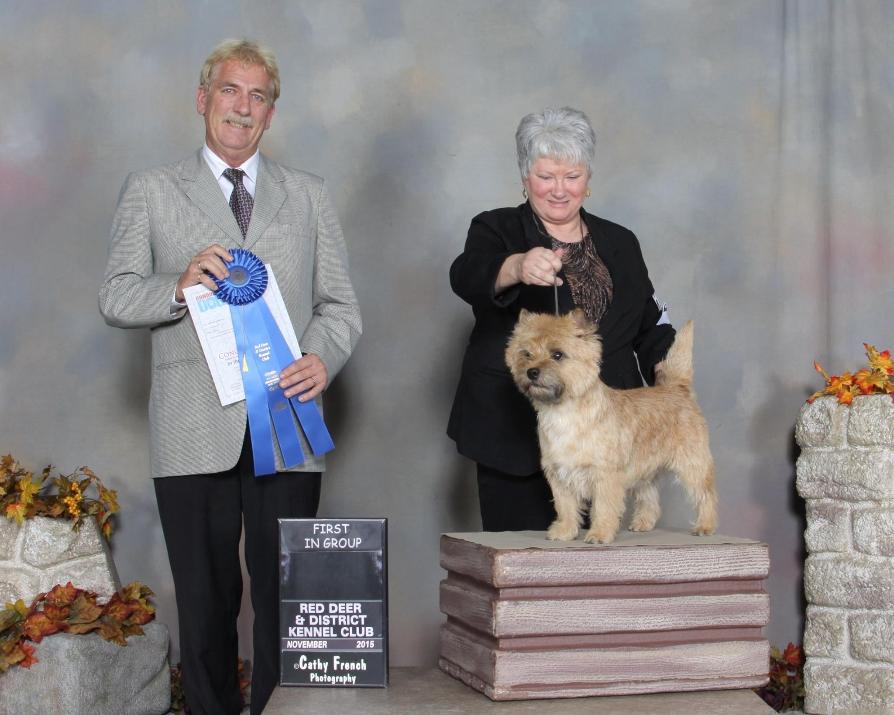 GCH Cairnisles Sharp Dressed Man "Dallas" Wins a Group 1 under Judge Ian Rasmussen at the Red Deer & District Kennel Club November 8 2015. Dallas is # 3 Cairn Terrier in Canada for 2015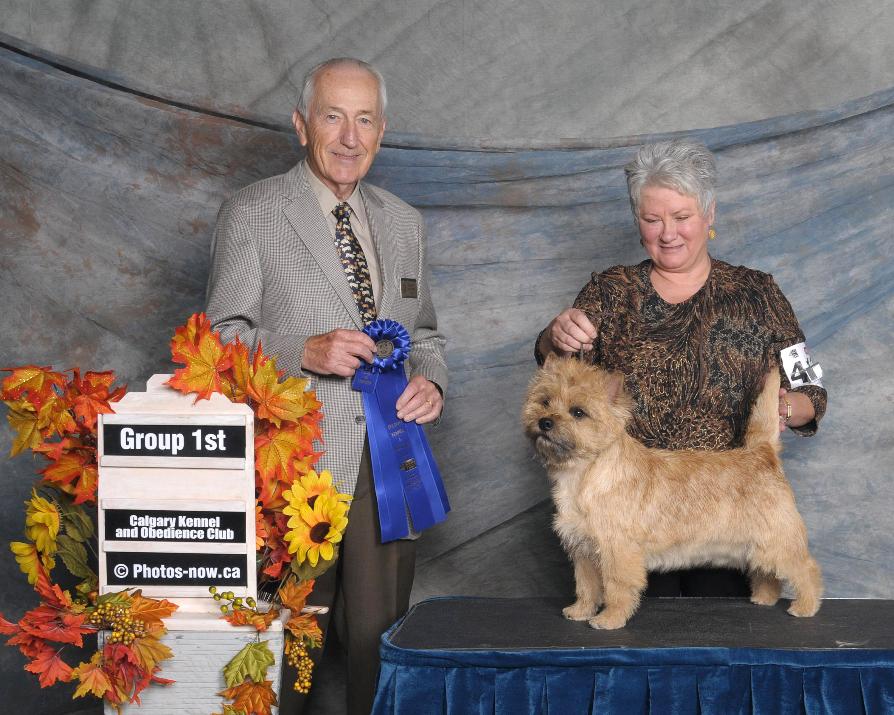 Ch Cairnisles Sharp Dressed Man "Dallas" winning Group 1 under Judge Roger Hartinger Sept 12 2015 CKOC Dog Show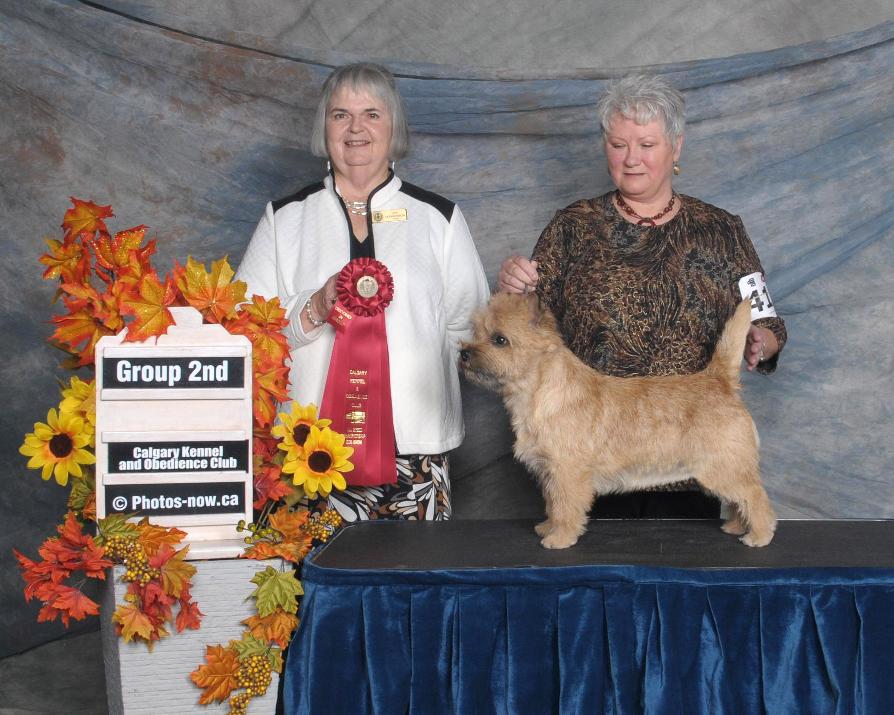 Dallas winning a Group 2 under Judge Joy Hodgkinson Friday Sept 11 2015
BISS Ch Cairnisles Sharp Dressed Man
We are pleased to announce our National Specialty winning Boy "DALLAS" Dallas won the CTCC National Specialty this weekend Aug 2/2015 in Calgary Alberta under Breeder Judge Ann Waugh of England. We are extremely pleased with our Boy and look forward to great things from him. Critique by Ann Waugh: A beautifully headed Cairn with a typical expression, deep stop, small well positioned ears and dark eyes. Correct coat, flowing neckline into a level topline with good tailset, topped by a balanced body. He is impressive on the move with good forward extension and drive and is a good showman. An excellent example of the breed. Ann Waugh, Judge of the CTCC National Specialty 2015 where she gave Dallas his Best in Specialty Breed win Ann Waugh is breeder of Cairn Terriers in the UK.