In 1994 I bought Am/CanCH. Cairngorm's MacGuyver ( Angus) from Jamie Abhalter. Out of him we produced 3 homebred Champions. He went on to become #4 Cairn Terrier in Canada that year in 1995. In the fall of 1995 I entered Angus in a Terrier Classic open to Group 1 winning Dogs only, And he won the classic! Angus went on to produce many Canadian Champions for those who used him at stud service.
All these Dogs shown here are offspring of Angus. Angus was bred by Nick Furillo and Co-Owned with Jamie Abhalter in the USA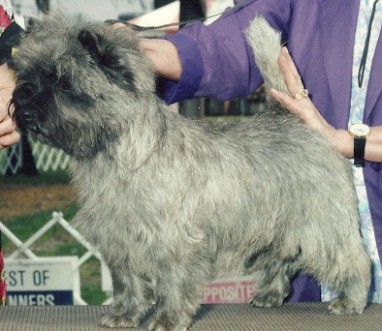 Am/Canch Cairngorm's MacGuyver

Angus I must say had to be my favorite dog to play with and to love. I had him only 3 days and we had already bonded. He went on to win many Group 1 placements and was Number 4 Cairn in Canada, the first year I had him.

The wonderful thing about Angus is he passed on wonderful heads, and toplines as well as strong rears and fronts. As well most of Angus's progeny have inherited wonderful long lives with no major health concerns, with the majority reaching the age of 15 in good health. He truly was a wonderful dog.

Thank you Nick and Jamie for sharing him with me!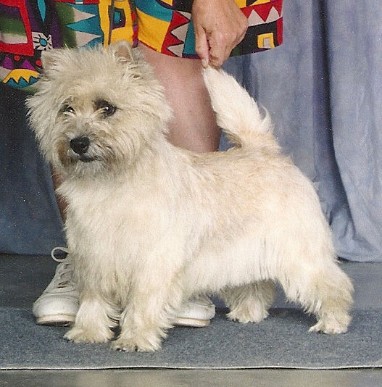 Ch Cairnisles Blue Moon
"Loonie"
(Am/CanCh Cairngorms MacGyver X Critterkins Onyxisle)
Loonie, as she was affectionately called, was "looney". She started her show career with a Grp 4 and obtained her championship with a Grp 4. winning BOB at the RRTA Terrier Specialty and Best puppy in Specialty. loonie lived up to her name. Always the Crazy Cairn, ball playing, taking to rubbing her own back when we would not give her the attention she so wanted. She had no skin condition, just wanted her back scratched. She is always in my memories.
CAN/AMCH. Cairnisles Constant Craving, (KD) Owned by Sheila Bremaud. ((Remleas Peppercairn X Am/Can CH. Cairngorms MacGuyver)

Was lovingly shown by Jamie Abhalter to her AMCH and Linda Smith showed her to her CANCH in Canada. She had many group placements.

KD had a wonderfully bubbly personality, and showed off her agility in the ring oftens by jumping up in the air and turning around mid-air, landing and looking up at me, asking.." so did you like that one"?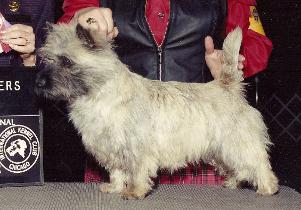 CH. Cairnisles Clearly Canadian
CC

(A
m/Can Ch. Cairngorms MacGyver X C
ritterkins Onyxisle X ) (CC) Was a Bitch I had sent to the USA as a pup back for her mother. She is a full sister to Ch Cairnisles Blue Moon. I got her back to show when she was 2 years old, and entered her into 1 weekend of shows and finished her with 3-4 point majors in one weekend.