Ch Bonniedee On The Road Again
Harley
We purchased Harley from Bonniedee Kennels in Manitoba. I had been out of cairns for a few years and I was only looking for a pet this time around. Rene and Lee Morin sent us this wonderful boy, and from first sight I knew he would have to go into the ring, due to the outstanding quality and typiness he exuded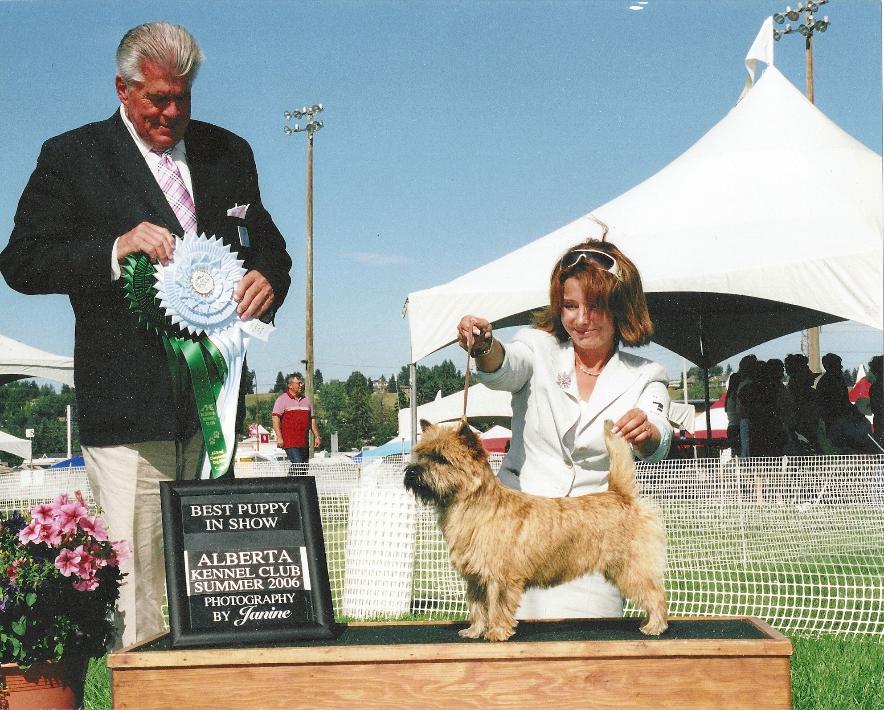 Harley at 7 1/2 months old, winning Best Puppy in Show, under the care of Shaunna Bernardin and under Respected Terrier Judge Dick Meens. His first weekend in the ring Harley Picked up 5 points towards his championship.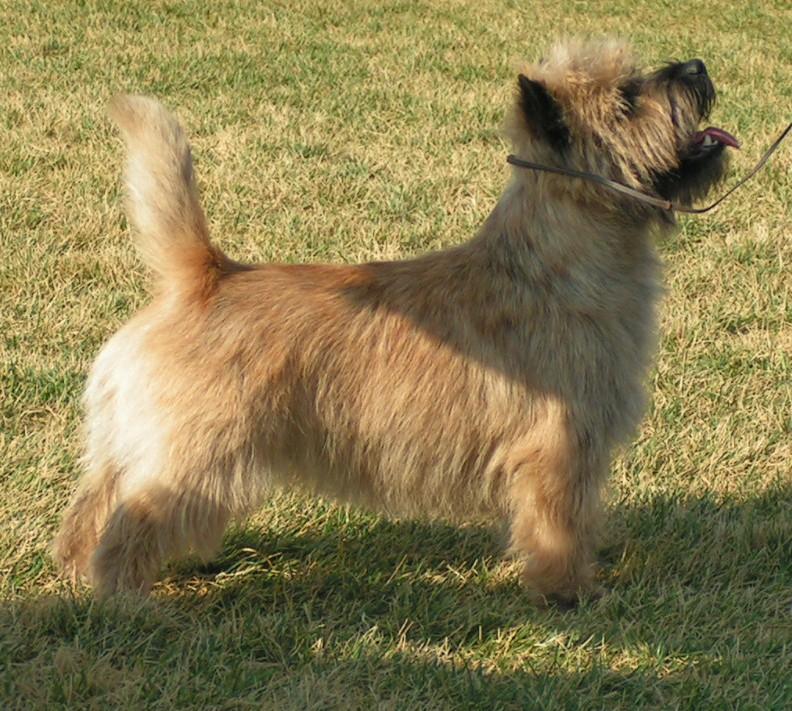 Harley at 2 years of age as a Special. Harley was shown by a Junior Handler who was 13 years old. She masterfully guided him to his wins to complete his championship.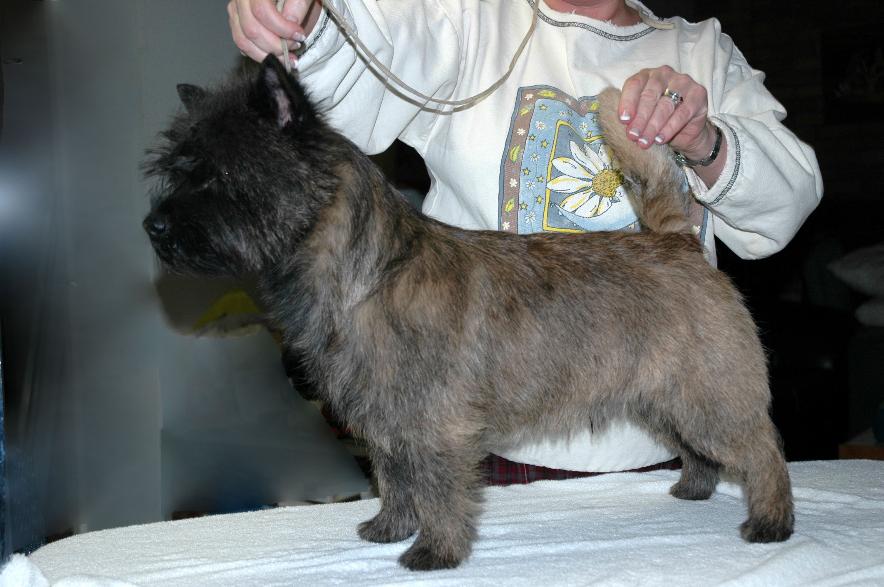 Harley is a wonderful example of how Cairn terriers can change colour over their lifetime. Here Harley is 5 years old, and has completely changed from his wheaten colour to a very dark red/brown colour.
Harley is our heart dog and sleeps in our bed, and is the sweetest most loving dog to anyone who walks in our dog, he truly is the ambassador of the breed.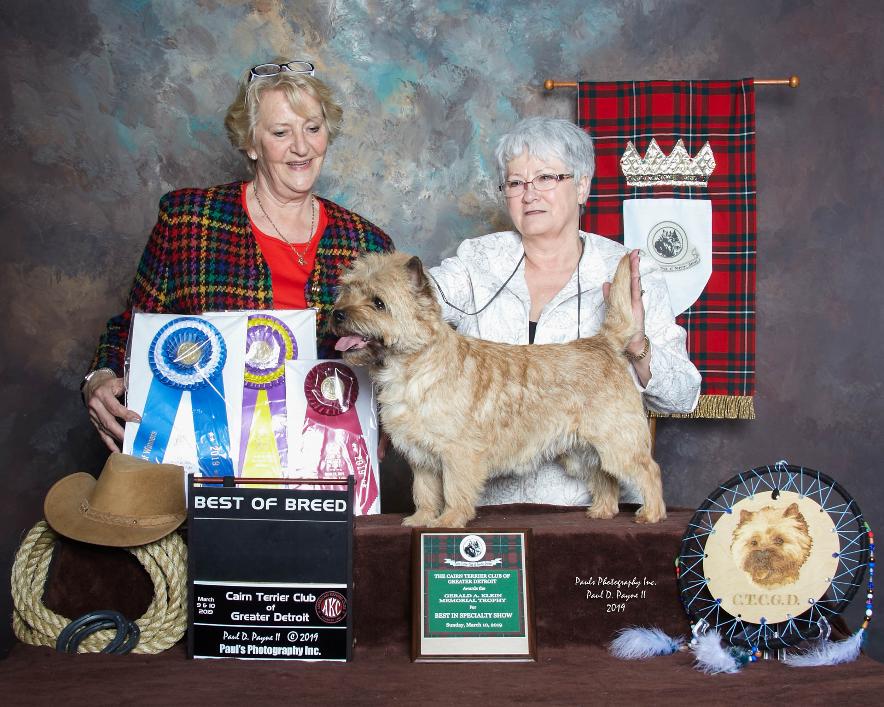 Dallas and I went to Ann Arbor Michigan march 2019 and we finished Dallas's American Championship ! Dallas was Best of Winners under Judge Dr Jerry Klein, for a 5 point Major, and Best of Winners, Best of Breed for a 5 point major and his American Championship, under Breeder Judge Mieke Jansen of Holland ( Cobby Body Cairns)
BIS, BISS, GCH Cairnisles Sharp Dressed Man
Dallas
Dallas is the son of Ch Cairnisle Pixilated "Dott" and Ch Runrig Whiskey and Women "Mac" ( Owned by Merril Schmitt and bred by Vickie Shotwell)
Dallas is a Multi Group placing Cairn Terrier, with a Best in Show and 2 Best in Cairn Terrier Specialties , Including a National Specialty under his belt. Dallas has also won, to date, 5 reserve Best in Shows in regular shows. He has been one of the Top 3 Cairns in Canada 2 years in a row now, 2015 # 3 and 2016 #2 Cairn in Canada.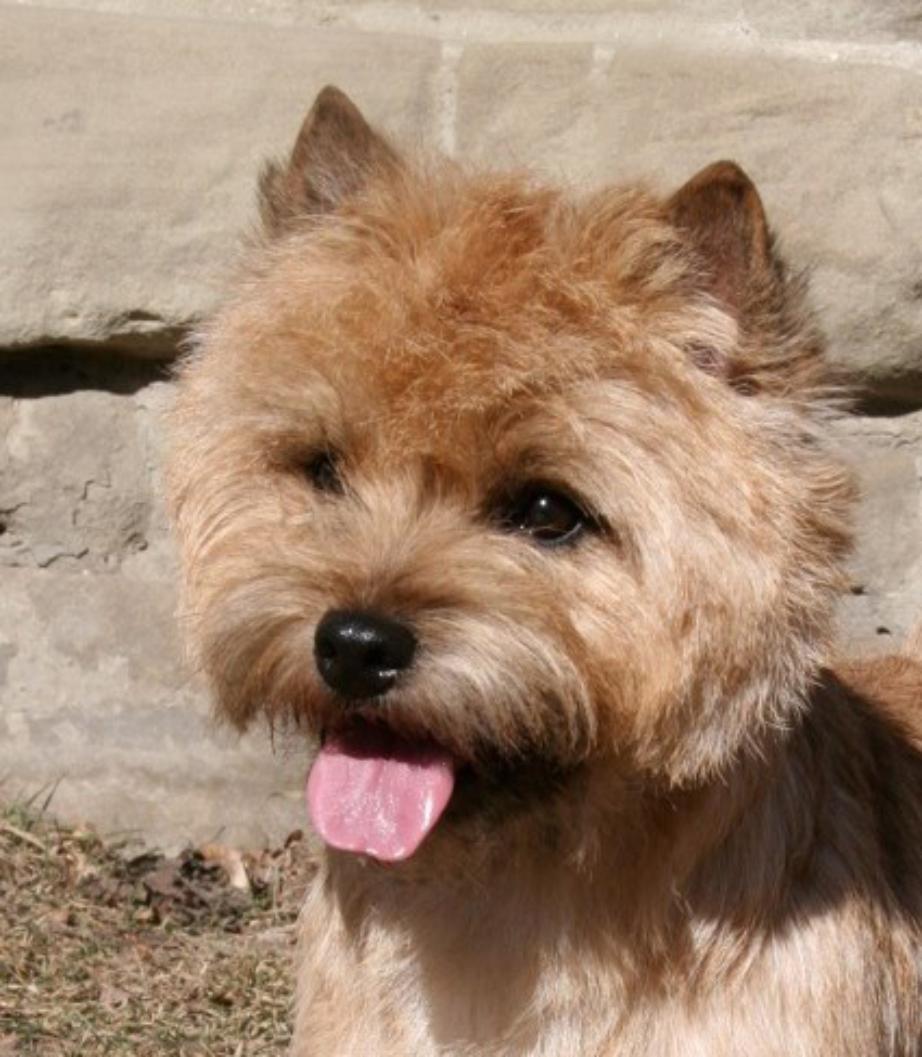 Dallas has the classic Cairn Terrier head. The first time I saw his sire in the ring, I knew I wanted to use him to breed to my girl Dott. He oozed type and correctness in regards to head, topline tail set and excelled in rear movement.
Dallas has correct ratio of width of skull to length of muzzle, correct bite and big teeth, he also
has correct rear and front angulation.
His abundance of furnishings is a breeders dream..
Dallas got the best of both worlds from his parents. Dotts beautiful head and correct muzzle to head ratio along with a strong well angulated front, topline and tailset and strong rear, and Macs superior head and body, as well as Macs " Joie De Vie" and love of balls and swimming. Dallas is an athlete in every way, and is very physically fit, And a source of joy to us on a daily basis.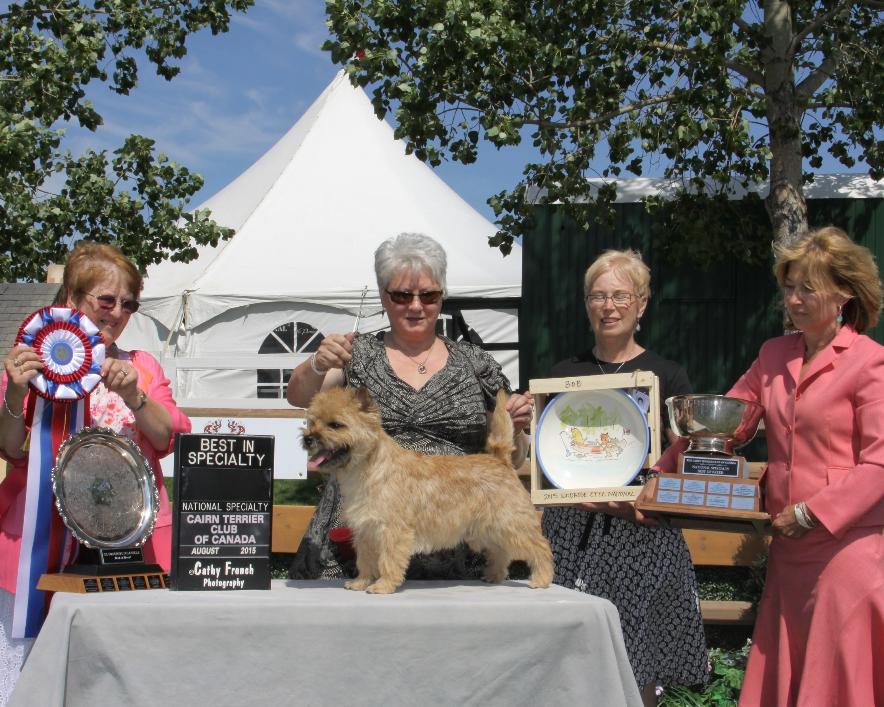 Dallas winning the Cairn Terrier Club of Canada National Specialty,
under Respected Breeder Judge Ann Waugh.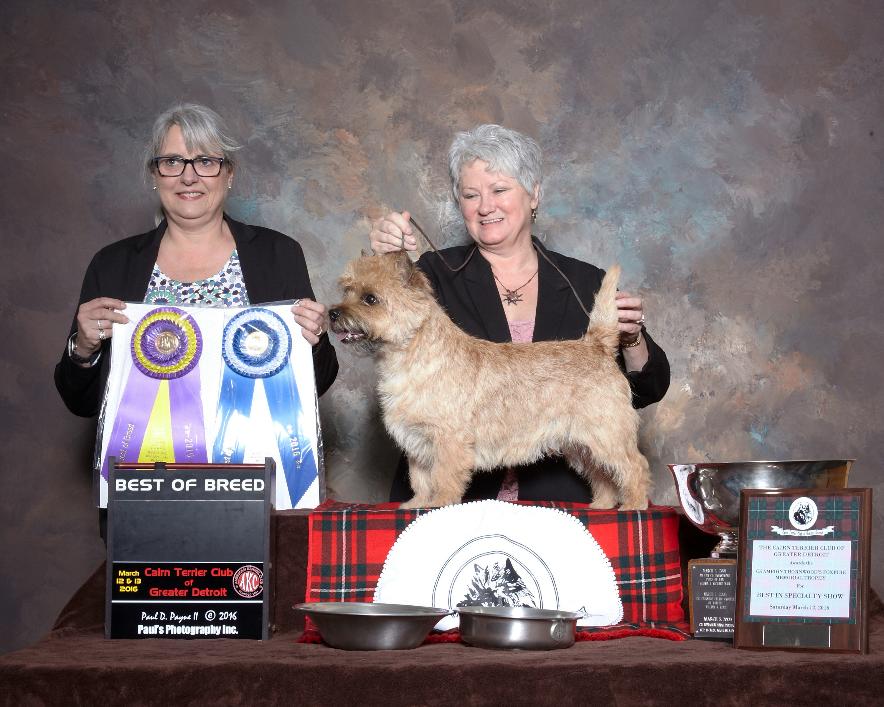 Dallas winning Best of Breed, under Respected Breeder Judge Mette Sørum, at the Greater Detroit Cairn Terrier Club of America Specialty, from the classes over 53 Cairn Terriers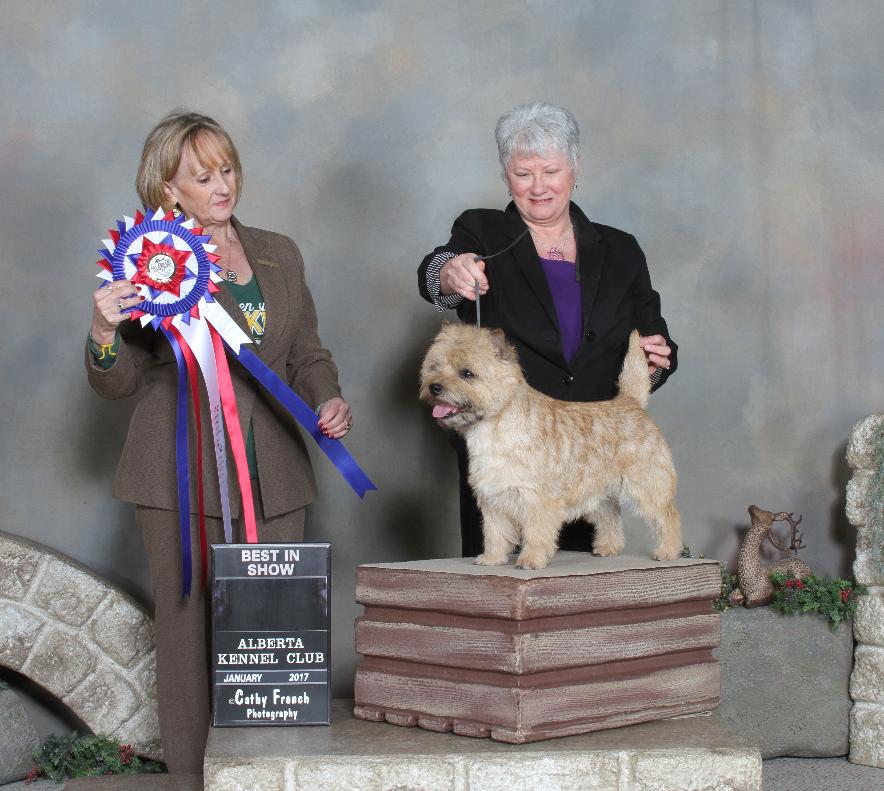 Our greatest win! Best in Show Under respected Breeder Judge Peggy Beisel-McIlwaine